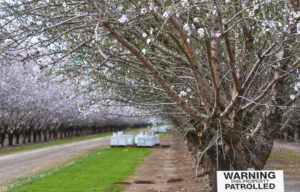 Hopefully this sort of theft doesn't find itself to the east coast of the United States.
To complicate matters, bee brokers who arrange contracts between beekeepers and almond growers are discovering that there are not enough beehives to go around, driving up demand, rental costs — and thefts.

Because of the expertise required to steal hives, the general consensus is that beekeepers are behind the heists.

"Beekeepers have the knowledge and equipment to go in and take the hives and the market to profit from them," Qualls says.
Read the full article at NPR.org: Beekeepers Feel The Sting Of Stolen Hives