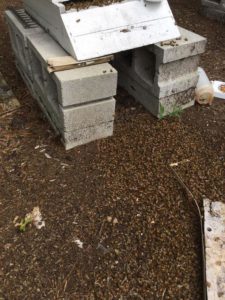 The state Department of Agricultural Resources was in Rehoboth Friday investigating a massive bee kill, said Wayne Andrews of the Bristol County Beekeepers Association.
"It's probably the biggest bee kill I've seen in my entire career," said Andrews, a Dighton resident and retired superintendent of the Bristol County Mosquito Control Project.
By Thursday morning when Andrews stopped by the hive of 70,000 to 80,000 bees had been almost entirely wiped out. He estimated that 50,000 or more bees had been poisoned in some fashion.
Andrews said he called in the state Department of Agricultural Resources, which sent an apiary inspector over Friday morning. The inspector took some samples to test for pesticides in the agency's chemistry lab to try to determine the culprit.
"To a beekeeper, it's like sticking a knife in your heart," said fellow Bristol County Beekeepers Association member Marcie Taylor of Dighton.
Read more here: Tauton Daily Gazette : Thousands of bees killed in Rehoboth