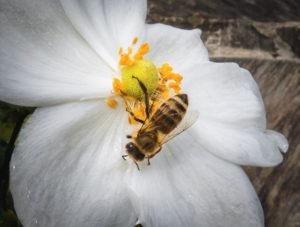 If you have a honey bee swarm, do not be alarmed. This is a natural process honey bees must go through to create new colonies when they are overcrowded in their hives. In most cases, swarming honey bees will not harm you if you do not bother them, however, they should be removed by a local beekeeper to ensure their survival and to prevent them from building a nest in YOUR home.
Some good information to tell the beekeeper is:
Where the bees are located
How many "gallon paint cans" you think they might fill up
The approximate dimensions of the swarm (length & thickness)
Whether the beekeeper will need to bring a ladder or if you can provide one
Whether or not you can supply a 1:1 mixture of sugar water in a spray bottle and a cardboard box with tape.
PLEASE SELECT A NAME FROM THE LIST BELOW AS SOON AS A SWARM IS SPOTTED!
There may be a fee associated with removing a swarm from INSIDE a structure.
Ryan Sarks
Cherokee, Pickens, North Cobb & Surrounding Local Areas
(770) 639-0868
Tim Norton
Cherokee County Areas
678) 896-1038
Brian Drebber
Cherokee County & Southern Pickens County Areas
404) 210-4844
be drebber@aol.com
Vincent Dwight West
Greater Metro Atlanta Areas
770) 547-8191
www.VPBEES.com/About_Us.html
Fred Dudash
Cherokee, Pickens, North Cobb & Surrounding Local Areas
(678) 910-1676
B. J. Weeks
Cherokee County & Surrounding Local Areas
(770) 735-3263
Trina Barron
North Fulton – Roswell, Alpharetta, & Milton Areas
(770) 861-7784
Randall Cagle
Cherokee, North Fulton, & Cobb County Areas
(770) 630-7150
Walter "Bud" Champlin
Pickens, Dawson, North Cobb, & Cherokee County Areas
(770) 324-4690
Kevin Cully
Cherokee, Forsyth, Canton, Ball Ground, Cumming, Alpharetta
(678) 929-7762